Not Lost for Lookin' - Local Writer
Image:
Image Detail:
Cover photo by Vincent Skeltis
A fly-fishing western romance ghost-story adventure of the high Sierras! Fly-fishing chicks, old trucks, epic landscape and a tale you'll never forget.
Old beat-up trucks, dive bars, gold-rush towns and the epic beauty of the high Sierra Nevadas are the backdrop to this tale of two women who fly-fish their way through a summer of heart-break, high-jinks, drug-lords, wild men, fish and ghosts. A sweet memoir of deep family outdoor tradition threads through this wild and unpredictable adventure.

If you answer YES to any of the following, YOU MUST READ THIS BOOK.

1) Do you drive with the windows down and the heater on in the winter?

2) Do you drive with the windows down and the air conditioner on in the summer?

3) When you see a police chase do you secretly say in your head: "Go man, go! "

4) Do you like running water, running free or running wild?

5) Is it sexy when a girl knows how to gut something?

6) If you could take off all your clothes, close your eyes
and jump off something really high and still be ok, would
you do it?

READ IT! You may cry. You may lash out. You may quit your
job. But you won't be sorry.you must read this book.
 
"Like" Her On Facebook: https://www.facebook.com/NotLostForLookin
---
About Lexi Boeger

I'm not down, I'm just savin' up.

In a nutshell, and if I can remember most of it, well fuck it- let's just hit the highlights: I am a writer, artist, yarn spinner (yes both literally and figuratively), canoer, fly-fisherman, folklore hunter, dive-bar'er, pool playing old truck driving whisky drinking wine maker's daughter. I don't understand poetry but if I had to make my best guess I'd say that when you only use a few words they have to be perfect. That's why I'm not a poet. I like to use lots of words and the wronger the better. I have two kids, they are stunning. I like old books, old country songs (good or bad), old things, creaky leather, running water and fine coffee. I can make carnitas from scratch and don't even get me started on pumpkin. I take honey and cream in my coffee. I take my coffee in a diner mug. I prefer bank-eight to straight and like 600 thread count sheets. I have 5 pillows and two cats one is named Gravy.

Technical Specs:

Lexi Boeger lives and works in Hangtown, California. She is a professional artist and writer and has built an international career as a yarn-spinner (yes, yarn). Her work is in both private and museum collections. For more on this Google: pluckyfluff or Lexi Boeger.

She has written three books on art, craft and the creative process in yarn spinning. These are available at the usual places.

Handspun Revolution, 2005, Pluckyfluff
Intertwined, 2007, Rockport/Quarry Books
HandSpun, 2011, Rockport/Quarry Books

Not Lost for Lookin' is her first fiction. Boeger is qualified to write on the topic due to her 39 years of running amuck in the foothills of the Sierra Nevadas; fishing, loving, losing and raising hell since 1974.

Boeger is currently focusing on fiction writing and community non-profit work in her hometown.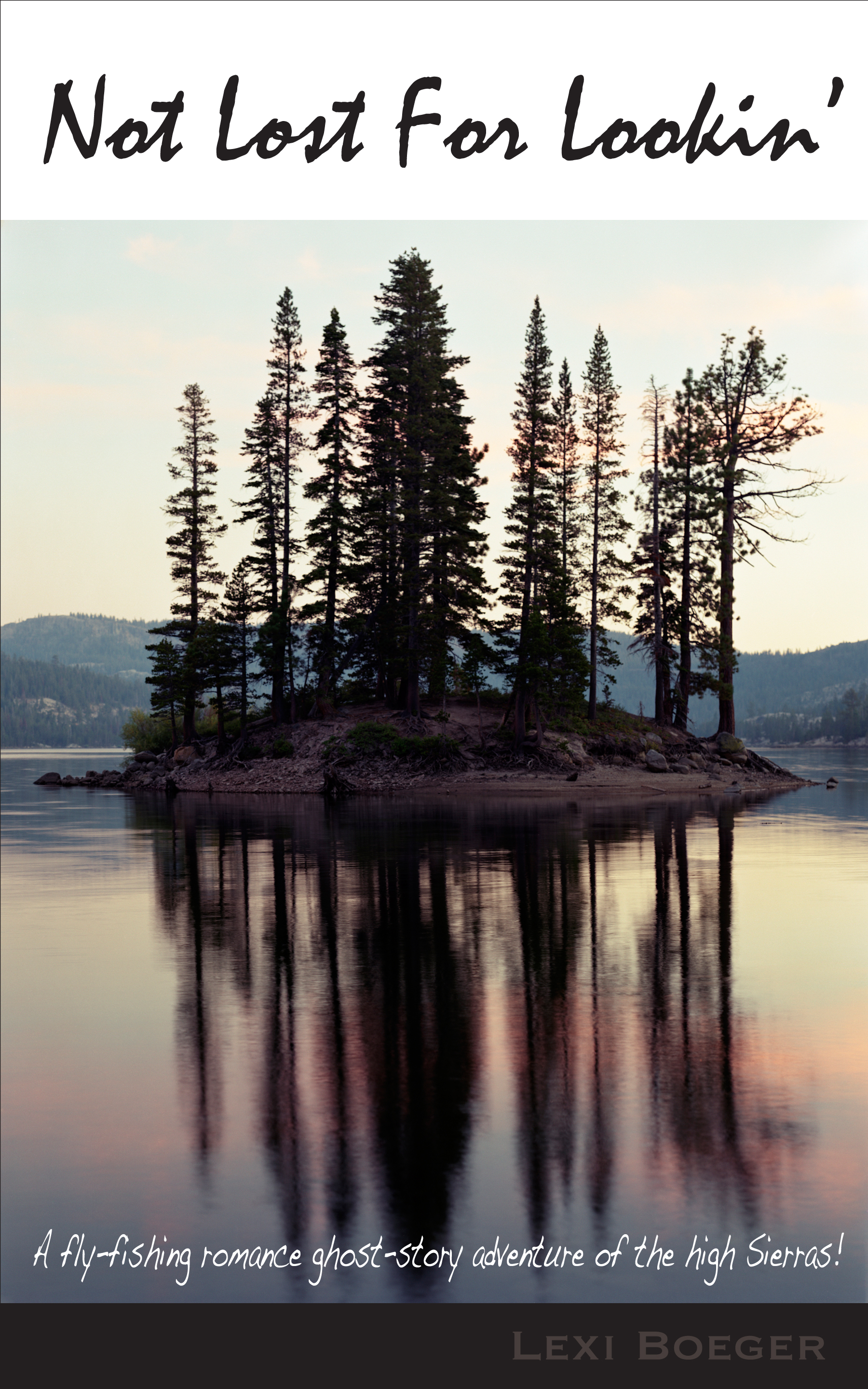 ---