Some Warblers of El Dorado County
Image:
Some Warblers of El Dorado County, California is an article from The Wilson Bulletin, Volume 9. 1896-1897
Bulletin No. 16. Pgs. 58-59 GENERAL NOTES.
Some Warblers of ElDorado County, California. — A hint of the physical features of the county is necessary to a proper understanding of its Warbler inhabitants. The altitude is about 3750 feet above the ocean. The country for miles around is covered with tall furs, pines, cedars, spruces, with here and there oaks and thick brush, called " deer brush." In various places under the trees there are large patches of a species of wild rose, called "mountain misery."
 Hermit Warbler, Dendroica occidentalis. — During my stay from the 7th to the 14 of July, 1897, I saw but six Hermit Warblers. A nest with four young was found in a cedar tree about twelve feet up. All but the one female belonging to this nest seemed to be males. They seemed to prefer the tops of tall trees where they searched through the foliage for insects, singing all the time.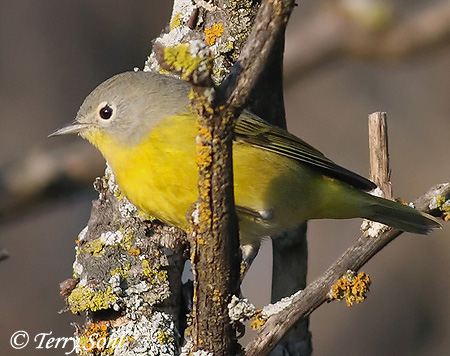 Calaveras Warbler, Helminthofhila rubricafilla gutturalis. — [The western population of the Nashville Warbler was once considered a separate species, called the "Calaveras Warbler." It is slightly brighter than eastern birds, with a brighter yellow rump, more extensive white feathers on the lower belly, and a slightly longer tail.] These were quite common, spending their time in the " deer brush " and " mountain misery." No nests were found, but several broods of young were noticed. They keep well out of sight* and therefore are easily overlooked.
 Black-throated Gray Warbler, D:ndroica nigrescens — One of the commonest Warblers, both in brush and high trees. A pleasant songster. I saw several broods of young, and watched the old birds feed them.
 Macgillivray's Warbler, Geothlyfis macgiUivrayi. — It was quite common in the "deer brush," where it builds its nest. One nest was found, and I saw some young nearly fully grown. There seems to be no difference in the habits of the individuals here and those in Sonoma.
Yellow Warbler, Dendroica aestiva. — I saw a few in the "deer brush." One nest with fresh eggs and one with three young and one egg was seen. This is probably the rarest warbler in the hills.
 Audubon's Warbler, Dendtoica auduboni. — It was fairly common, keeping well up in the trees, where it frequently uttered its peculiar note. A brood of young was seen, which the old birds were feeding at that time.
 Pileolated Warbler, Sylvania fmsilla fileolata. — On September 20, 1896, I saw about twenty individuals of this species in the trees (alders, laurels, etc.) along a mountain stream. They were in low trees, but went up about twenty-five feet at times. All were apparently young of the year, as but one had the black crown. They were searching around through the trees after insects. On September 26, I saw two along the same stream, but in the valley about a half mile from where the others were seen a week before. One which was shot proved to be a bird of the year ; the colors of the other one indicated that it was an old bird. They acted like the Yellow Warbler. The above noted instances are the only times I have met this bird. Henry W. Carriger, Sonoma, Calif.

Journaltitle:  The Wilson Bulletin
Mediatype:  texts
Pagerange:  58-59
Source:  http://www.jstor.org/stable/10.2307/4153490