Penny Slots Explode for Two Lucky Ladies at Red Hawk Casino
Image:
Image Detail:
Charlene, from Fair Oaks, Calif., celebrates a $22,479 penny slot jackpot at Red Hawk Casino in Placerville.
More Than $50,000 in Jackpots for Two Rewards Club Members in Just Days
Red Hawk Casino, home to some of the luckiest and loosest penny slots, awarded two lucky ladies jackpots for a total of more than $50,000.
Dolores, from Vacaville, Calif., visits every Saturday and says the excellent service she always receives makes Red Hawk her favorite. She was enjoying an afternoon at the casino playing a penny Black Gold Wild Quick Hit slot. After just a short time of playing, Dolores was ecstatic to see the reels line up for a $28,194 jackpot. Dolores plans to use some of her winnings to pay bills and says she'll keep playing every week at Red Hawk.
Charlene, from Fair Oaks, Calif., was another lucky Rewards Club member to hit it big at Red Hawk. She visits Red Hawk every month and decided to make a stop at the casino to enjoy some of her favorite slots. She had been playing for less than an hour when she decided to try her luck on a Fire Ball penny machine. To Charlene's delight, in less than 30 minutes the slot revealed a $22,479 jackpot. When asked what she plans to do with her winnings, Charlene said she'll pay off her car and invest the rest.
"I'm thrilled to celebrate all our recent winners. Red Hawk Casino is paying out more jackpots, more often," said Bryan deLugo, general manager. "With exciting giveaways and promotions, award-winning dining, and more than 2,300 of the luckiest slots, nobody does it better than Red Hawk."
Red Hawk Casino is conveniently located on Highway 50 at Red Hawk Parkway. Visit redhawkcasino.com or call  888-573-3495  for more information.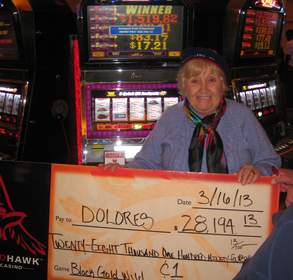 Dolores, from Vacaville, Calif., celebrates a $28,194 jackpot on a penny slot machine at Red Hawk Casino.